Family Lounge
A family lounge, with a comfortable area to relax, a mothers' lounge, and family restrooms, are located on the first floor of the terminal, across from airline ticketing counters.
Mothers' Lounges
Three private Mothers' Lounges (lactation rooms) for breast-feeding mothers, each complete with a comfortable leather chair, table, electrical outlet, sink and baby-changing table, are available in the following locations:
In the concourse (past security) across from Gate 8 off of the women's restroom labeled Room 2082.
In the concourse (past security) between gates 5 and 6 off of the women's restroom labeled Room 2024.
On the first floor, in the suite labeled "Family Lounge" across from the United ticket counter.
"As a nursing mom who was traveling on business, I flew out of your airport this past week and was amazed to see a Mother's Lounge on the 2nd floor. What a pleasant surprise!"
-- Business traveler
Sacramento, CA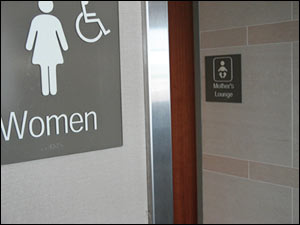 Companion Care Restrooms:
ALL restrooms in the terminal are accessible and include baby changing stations - look for signs inside the restroom.
First Floor (pre-security): Across from the American Airline ticket counter.
Second Floor (past security): Between gates 5 and 6, and down the hallway to gates 11 to 13.