Hungry, Hangry, or Hankering?
If so, Grab a bite in the newly renovated Madison Marketplace! Experience world-class quality from our hometown favorites such as Metcalf's Local To Go, Ancora Artisan Coffee & Tea, and fresh-forward menus by local Chef Tory Miller at Vinoteca Wine & Tapas and Mad Town Gastropub.
After Security Screening
Ancora Artisan Coffee & Tea

Hours: OPEN
Location: Central Food Court
At MSN's post-security location, Ancora welcomes passengers to indulge in expertly pulled coffees and teas that span the globe. Or, take in a pre-flight glass of premium wine or beer alongside freshly made small plates, sandwiches and snacks. With ample seating and wide, entertaining views of the airfield, passengers are encouraged to sit down and unwind through dwell time at this modern, Madison favorite coffee bar.

Metcalfe's Local to Go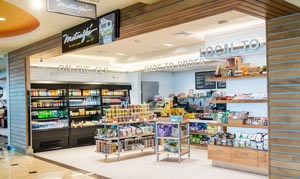 Hours: OPEN from first flight, through last departure
Location: Central Food Court
Proudly serving the Madison community for nearly a century, Metcalfe's grocery has led the way in environmental practices supplying the region with sustainable, locally sourced foods. Metcalfe's post-security shop and restaurant offers travelers a true taste of Wisconsin with their array of local products including favorites such as: Sprecher Brewery's Gourmet Sodas, Oakhouse Bakery Specialty Granola, Gail Ambrosius' Chocolates and Rickland Orchards' Granola Bars. At the quick service counter, passengers can order custom-built sandwiches to go. Sample menu items include: hot breakfast Paninis, Grilled Lemongrass Chicken Báhn Mì, Turkey Florentine with gruyere, and a French Onion Grilled Cheese oozing with Swiss and gruyere cheeses. Rounded off with portable drinks, nutritious snacks and freshly baked treats, there's something for every traveler at Metcalfe's Local to Go.
Mad Town Gastropub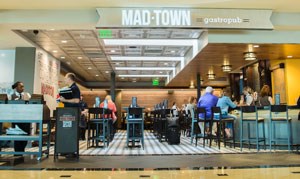 Hours: OPEN from first flight, through last departure
Location: Central Food Court
Menu: Download Here
Featuring a menu of fresh-forward, seasonal dishes created by James Beard award-winning local chef, Tory Miller, Mad Town Gastropub promises passengers an exceptional post-security feast they'll remember long after departure. Make yourself at home at the wide-open bar and begin your journey through Wisconsin's fields with the Grilled Vegetable Sandwich, dressed with white ale pepper jack sauce and griddled on a doughy, fresh pretzel bun. Or, dive into the seductively simple Pork Belly Slider plated with piquant pickled veggies. Sweet endings include freshly made hand pies crowned with frozen vanilla custard. The full service bar delivers a top-notch roster of local and international brews, handcrafted cocktails as well as soft drinks and coffee. Serving breakfast through dinner and last departures, Mad Town Gastropub promises a memorable start to every journey.
Vinoteca Wine & Tapas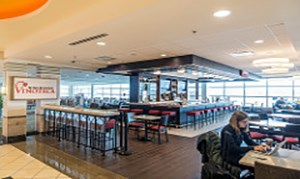 Hours: OPEN with limited hours
Location: Central Food Court
Menu: Download Here
Vinoteca Wine & Tapas Bar welcomes passengers to start their post-security journey in tranquil surrounds, enjoying expansive views of the airfield while sipping tantalizing tipples and delighting in local gastronomic pleasures with small plates created by Madison's own, James Beard award-winner, Chef Tory Miller. From deviled eggs topped with pork belly and Maryland crab ceviche, to warming plates of "grown-up" grilled cheese, fresh Wisconsin cheese curds topped with Korean chili sauce, and shredded chicken on toasted sourdough crowned with caramelized onions and apricot chutney—there's a plate to tempt every MSN jetsetter. Paired with exceptional wine, local beers and handcrafted cocktails, passengers can relax and unwind in Vinoteca Wine & Tapas Bar's elegant, modern setting.
Before Security Screening
Ancora Artisan Coffee & Tea
Hours: OPEN with limited hours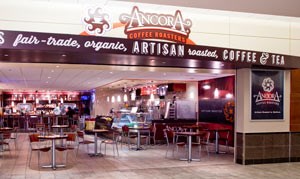 Location: Adjacent to baggage claim
Committed to thoughtfully sourced, hand-roasted coffees and extraordinary teas, Madison-based Ancora has been fueling the local community for over 20 years.
Jetsetters can follow their noses to Ancora's MSN outpost, drawn in by the intoxicating aroma of freshly brewed beverages. Chose from boutique selections ranging from classic French Roasted Sumatra to smoky Blackbeard's Blend, plus even more exotic choices like Ethiopia Yirgacheffe, Nicaraguan Las Diosas and Sumatran Permata Gaya. Pulled to perfection with state-of-the-art equipment, shots are topped by a rich tawny crema. Handcrafted sandwiches made with top-shelf, locally-sourced fillings and a full range of freshly made baked goods are perfect to grab and go.