Restaurants
If you're traveling out of MSN, come hungry. We've put on our hard hats and are busy building a new and expanded portfolio of restaurants designed to offer you variety, a taste of home and tremendous quality. Scheduled to open later this year, our new restaurant portfolio includes home-town favorites such as an expanded Metcalf's and Ancora Artisan Coffee & Tea as well the introduction of a new Wine & Tapas bar, and the debut of Mad Town Gastropub, featuring a menu of fresh-forward, sustainable dishes created by James Beard award-winning local chef, Tory Miller.
After Security Screening
Metcalfe's Local to Go
Location: Central Food Court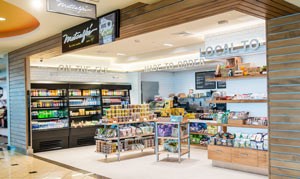 Proudly serving the Madison community for nearly a century, Metcalfe's grocery has led the way in environmental practices supplying the region with sustainable, locally sourced foods. Metcalfe's airside shop and restaurant offers travelers a true taste of Wisconsin with their array of local products including favorites such as: Sprecher Brewery's Gourmet Sodas, Oakhouse Bakery Specialty Granola, Gail Ambrosius' Chocolates and Rickland Orchards' Granola Bars. At the quick service counter, passengers can order custom-built sandwiches to go. Sample menu items include: hot breakfast Paninis, Grilled Lemongrass Chicken Báhn Mì, Turkey Florentine with gruyere, and a French Onion Grilled Cheese oozing with Swiss and gruyere cheeses. Rounded off with portable drinks, nutritious snacks and freshly baked treats, there's something for every traveler at Metcalfe's Local to Go.
Mad Town Gastropub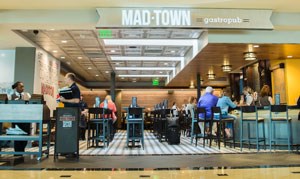 Location: Central Food Court
Menu: Download Here
Featuring a menu of fresh-forward, seasonal dishes created by James Beard award-winning local chef, Tory Miller, Mad Town Gastropub promises passengers an exceptional post-security feast they'll remember long after departure. Make yourself at home at the wide-open bar and begin your journey through Wisconsin's fields with the Grilled Vegetable Sandwich, dressed with white ale pepper jack sauce and griddled on a doughy, fresh pretzel bun. Or, dive into the seductively simple Pork Belly Slider plated with piquant pickled veggies. Sweet endings include freshly made hand pies crowned with frozen vanilla custard. The full service bar delivers a top-notch roster of local and international brews, handcrafted cocktails as well as soft drinks and coffee. Serving breakfast through dinner and last departures, Mad Town Gastropub promises a memorable start to every journey.
Usinger's Wurst German Bar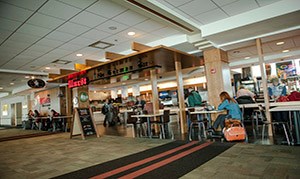 Location: Across from gate 5
Menu: Download Here
The Wurst German Bar features sandwiches made from Usinger meat products, such as bratwursts and cold meats, as well as beverages and German beers to wash them down. Usinger's is a one of a kind, nationally recognized Milwaukee family business devoted to the craft of sausage making. From a better bratwurst to an authentic beerwurst, superior German-style wurst doesn't get any better than Usinger's... producing quality sausage products since 1880! Breakfast sandwiches available from 9 a.m. til closing. Look for the distinctive elf painted on the wall!
Before Security Screening
Ancora Artisan Coffee & Tea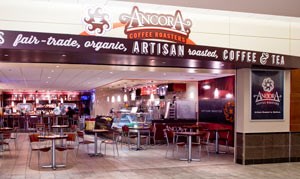 Location: Adjacent to baggage claim
Committed to thoughtfully sourced, hand-roasted coffees and extraordinary teas, Madison-based Ancora has been fueling the local community for over 20 years.
Jetsetters can follow their noses to Ancora's MSN outpost, drawn in by the intoxicating aroma of freshly brewed beverages. Chose from boutique selections ranging from classic French Roasted Sumatra to smoky Blackbeard's Blend, plus even more exotic choices like Ethiopia Yirgacheffe, Nicaraguan Las Diosas and Sumatran Permata Gaya. Pulled to perfection with state-of-the-art equipment, shots are topped by a rich tawny crema. Handcrafted sandwiches made with top-shelf, locally-sourced fillings and a full range of freshly made baked goods are perfect to grab and go.