International Lane Road Closure – What You Need to Know
International Lane will be closed next to the MSN terminal for road construction starting approximately late June through mid-October of 2022. The road is being updated to better accommodate travelers, and to pave the road with concrete, which is more durable and helps reduce stormwater runoff.
As of June 22, 2022 ALL non-commercial vehicle traffic will be re-directed from the section of International Lane just south of the terminal, which does affect the method non-commercial vehicles will use for passenger drop-off and pick-up.
Please be sure to allow extra time, prior to your flight or after, to accommodate for delays that may occur in drop-off or pick-up due to road construction.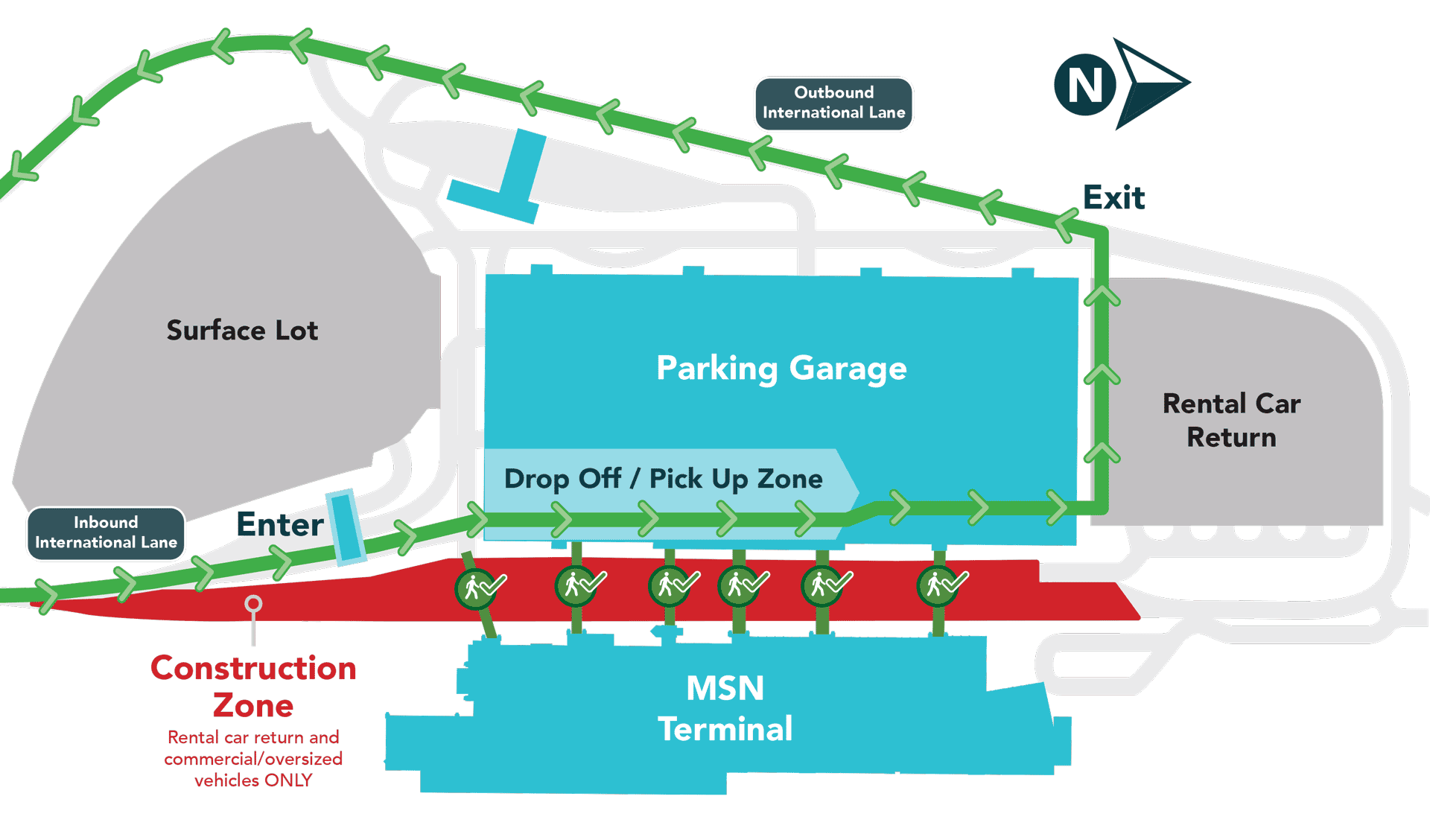 New Method For "Curbside" Pick-Up/Drop-Off:
If you are dropping off or picking up a traveler, and will not be getting out of your vehicle to do so, you will enter the hourly parking in the parking garage and pull into an angled parking spot. Your traveler will then exit or get into your vehicle and you will exit the garage according to the posted signage. You may not leave your vehicle unattended in the garage, and overnight parking is strictly prohibited. There is no charge for passenger drop-off/pick-up in the parking garage.
Getting To and From the Terminal Building:
Travelers will be able to use the crosswalks from the parking garage drop-off/pick-up area to get into the terminal or to exit the terminal for drop-off and pick-up. Crosswalks will remain open during road construction.
If You Need to Park Your Vehicle and Enter the Terminal:
Regular hourly parking is available in the parking garage. Longer-term parking is available in the designated ramp lot. See signage for current parking rates.
To Access Taxi, Hotel Shuttle, Rideshare, Private Car and Rental Return Services:
Travelers using taxi, hotel shuttle, rideshare or private car services and car rental return will access those services from the commercial and oversize vehicle lane. You will be able to access those services or the terminal on foot via the crosswalks, which will remain open during construction.